Resources / Trainings / Basware Analytics for Procurement
Basware Analytics Training for Procurement
Basware enables continuous processing of purchases and invoices. However, if you like to leverage towards as much automated processing as possible, you'll need to start investigating the exceptions that occur in the current process. What bottlenecks can be identified in the approval proces? Or how are suppliers perfoming against their targets? By analysing all the available data in Basware Analytics, insights can be gained into the efficiency and effectiveness of purchase.
This of course begs the question how Basware Analytics should be applied to gain such insights. Our Analytics training will help you get started with Basware Analytics.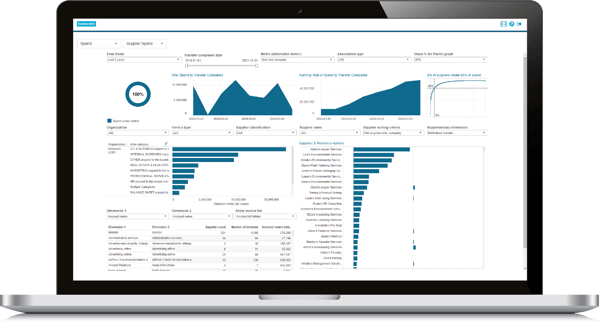 Agenda
General overview Analytics
We'll start off with a basic explanation of how Analytics works. How to select data, how the user interface works and how data can be downloaded.
The data explained
The data is brought to life by visual representations. But it is especially important to understand what the data means. And especially how to interpret this in such a way that optimizations can be implemented.
Combining Basware and Analytics
By focusing on data and processes, it becomes possible to reduce as many exceptions as possible. This can be done by combining Basware and Analytics. From Analytics it is possible to start high with the selection of, for example, the suppliers that cause many exceptions. By going deeper and deeper here in Analytics, the last step is possible to check the process steps in Basware at invoice level. By combining this in the right way, steps can be taken quickly in the optimization of the processes.
Creating dashboards
In addition to the approximately 20 standard dashboards from Analytics, it is also possible to create your own dashboards. During the training, insight will be given on how to do this and what should be paid attention to.
Target Audience
The training is intended for those working at the accounts payable department. We offer a similar training which is more focused on invoice processing.
Date & Location
3 march 2022, 13:00-16:30 CET | Online (Microsoft Teams)
24 may 2022, 13:00-16:30 CET | Online (Microsoft Teams)

Trainer
Christian Willemsen
Business Consultant & Trainer
cwillemsen@icreative.nl
Costs
Euro 295 per person. Costs depend on the number of participants per company. Feel free to inquire about the costs.
Incompany
Alternatively, we can provide trainings onsite or online, exclusively for companies. Feel free to inquire about the possibilities.